Main Characteristics
The panels in cement bonded are realized in conglomerate cementizio "Portland" (the only concrete that does not contain Radon) and Wood Fibers of Pine to 100% press. The quality, is guaranteed by the greater institutes of certification of European qualities.
Definition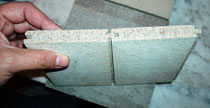 The cement bonded chipboard is a board product made in flat press from reduced wood material, wood chips with addition of hydraulic binder (portland cement) and chemical additive for application in the building industry.
The slabs in which pressed cement bonded Betonyp type must have a advanced specific weight to 1.350 Kg. Al cubic meter, thermal Coefficient of conduttività = 0,26W/mK acoustic Isolation 30 db minimal on 12 milimeter of thickness.
---
Main Properties Of The Betonyp Building Boards
The Betonyp building boards combines the advantageouses properties of cement with those of wood particles treated with chemical additives. The board structure is continuosly layered from the finer wood chip fraction forming the upper layer on both sides to the central coarser layer. The board surfaces are smooth, their colour is cement grey.
The Betonyp board is lighter than the traditional building materials. It is weather and frost resistant. Insects and fungus do not attack and damage it. Due to the excellent physical and mechanical properties it is one of the most important basic materials in lightweight building.
Incombustible (A2sd1 -Afl2-s1 EN 13501-2 )
Certificated CE - A2sd1 norma EN 13501-2
Weatherproof
Unattackable from the animals, rodents, thermits etc.
Fungiproof
Formaldehyde and asbestos free
Lacking in recycled Inks
Resistant to the atmospheric agents
Workable with tools from wood.
High capacity
---
Package And Trasportation Of The Betonyp Building Boards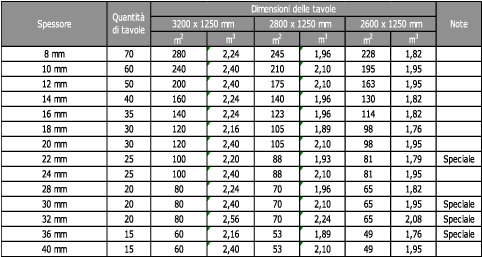 The cement bonded chipboards are packed in the factory on supporting timbers or on pallets in unit stacks. A protective cover sheet on top at the bottom of the stack is made of a lower grade chipboard. The stacks are clamped with steel or plastic ciklostrip. The edge of cement-bonded chipboards under ciklostrip are fitted up with edge-protectors. The total weight of an average stack is appr. 3200-3500 kg.
The ready for delivery unit stacks can be transported by rail or by truck. As the loading is made mechanically by BETONWOOD S.r.l., the adressee should be in possession of mechanical unloading equipment, too. Further transportation and unloading are to be organized by the customer.
Packing standard of the buildings tables Betonyp
---
Material properties of the Betonyp building boards
Degree of humidity after air-conditioning:
Bending strenght:
Tensile strenght perpendicular to board:
Modulus of bending strenght 1 stc:
Modulus of bending strenght 2 ndc:
Swelling of thickness:
Change of lenght and width effected by humidity:
Coefficient of thermal expansion:
Conduction of heat:
Coefficient of resistance to vapour penetration:
Air-permeability:
Freezing resistance:
Airborne sound insulation:
Ph-value on surface:
6% - 12%
min. 9.0 N/mm&sup2(q)
min. 0.5 N/mm&sup2(q)
4500 N/mm&sup2
4000 N/mm&sup2
1,5% 24 hours wetting
max 0,3% at a temp of 20°C upon rel humidity increasing from 25% to 90%
10/K - 5/k
0.26 W/mK
22.6
O,133 l, m&sup2 Mpa
there is no noticeable change
30 dB at a board of 12 mm of thickness
11